OpenEmbedded Polo Shirt (black)
Nowadays it's more difficult to maintain the stock of all our products. Here you can find more details about our current stock, available to ship right now:
S size - only 7 pcs in stock
M size - only 4 pcs in stock
L size - 5 pcs arriving, order now to get it!
XL size - only 6 pcs in stock
2XL size - only 4 pcs in stock
Attention! New sizing.
These polo shirts are a new type and sizing is a bit different to the old ones. Please check the sizing chart below!
OpenEmbedded
Our friends at OpenEmbedded asked us to make some shirts to support them. Here they are.
Real Embroidery
Forget the cheap, printed T-shirts. This is real embroidery on a quality, cotton shirt which you can use for a long time.
Money Back Guarantee
If you're not happy with your order, just send it back within 3 months, and we'll organize a replacement or give you your money back. We have a customer service that cares.
100% made with Linux
The embroidery, the website, the customer service, fully made with Linux. Who else does all this with Linux?
This is an official OpenEmbedded product.
Polo shirt sizes
| | Length (A) | Width (B) |
| --- | --- | --- |
| S | 70 cm / 27.5" | 50 cm / 19.5" |
| M | 74 cm / 29" | 53 cm / 21" |
| L | 77 cm / 30.5" | 56 cm / 22" |
| XL | 81 cm / 32" | 60 cm / 23.5" |
| 2XL | 84 cm / 33" | 62 cm / 24.5" |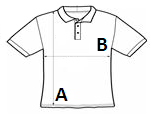 Measure one of your shirts you have at home!
Start by laying it completely flat (on a table), then measure according to this image on the right. Please keep in mind that natural cotton garments can shrink up to 5% during the first washing.
Some technical information

The blank shirt is STANDARD 100 certified by OEKO-TEX
100% cotton, eurofit, 214-223 g/m2 (depending on the color)
Embroidered with high strength Madeira embroidery thread
3 colour-matched buttons
Contoured welt collar and cuffs
Double needle bottom hem
Machine washable up to 40°C / 105°F
Instead of drying in direct sunlight, dry in the shade. This way you can save the colors for years.
Can be safely dried using a tumble drier (medium heat)
Ironing up to 150°C / 300°F
Do not dryclean
Materials sourced from Honduras and Bangladesh. Finished and embroidered in Hungary, in the European Union.