Linux crewneck sweatshirt
Sorry, but it's out of stock,
and we don't expect to have new stock. We are planning to make a new variant soon, but it's possible that it will be available only for a limited time. If you don't want to miss out, please subscribe to our notification list.
We care about your personal data, as we expect others to care about ours. We keep your e-mail address so secret, we don't even give it to our shipping partner if you order something from us. Is that fair?
Ending soon!
This is a seasonal offer, only available until 17.03.2022.
Linux + You
You are part of a great community with a vision, and you can help others to understand, why Linux is better.
Real Embroidery
Embroidered logo on a warm and elegant sweatshirt. Durable and comfortable material (50% cotton, grown in the United States).
Money Back Guarantee
If you're not happy with your order, just send it back within 3 months, and we'll organize a replacement or give you your money back. We have a customer service that cares.
100% made with Linux
The embroidery, the website, the customer service, fully made with Linux. Who else does all this with Linux?
Crewneck Sweatshirt sizes
| | Length (A) | Width (B) | Sleeve length (C) |
| --- | --- | --- | --- |
| S | 69 cm / 27" | 51 cm / 20" | 85 cm / 33.5" |
| M | 71 cm / 28" | 56 cm / 22" | 88 cm / 34.5" |
| L | 74 cm / 29" | 61 cm / 24" | 90 cm / 35.5" |
| XL | 76 cm / 30" | 66 cm / 26" | 93 cm / 36.5" |
| 2XL | 79 cm / 31" | 71 cm / 28" | 95 cm / 37.5" |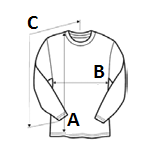 Measure one of your sweatshirts you have at home!
Start by laying it completely flat (on a table), then measure according to this image on the right.
Some technical information

The blank sweatshirt is STANDARD 100 certified by OEKO-TEX
50% Cotton and 50% Polyester, 271 g/m2
Embroidered with high strength Madeira embroidery thread
Classic fit tubular body
Spun yarn for softer feel and reduced pilling
Double-needle stitching at shoulders, armholes, neck, waistband and cuffs
Twin needle stitching at shoulder, armhole, neck, waistband and cuffs
1x1 rib with spandex for enhanced stretch and recovery
100% of the fabric cutting scraps are recycled into fiber and used in new products
33% of the energy used to manufacture this sweatshirt comes from renewable resources
Machine washable up to 40 °C
Can be safely dried using a tumble drier (medium heat)
You should not iron this sweatshirt
Do not dryclean
Cotton is sourced from the United States. The blank sweatshirt was manufactured in Honduras, El Salvador, Guatemala, Nicaragua or Mexico. Embroidered and finished in Hungary, in the European Union.