Payments by PayPal
We accept VISA, MasterCard, Maestro and American Express credit cards through PayPal. If you don't have a credit card, or PayPal didn't accept it, you have also possibility to make your payment by opening a free PayPal account. You can do this in 2-3 minutes and you will be able to pay by your VISA, MasterCard or American Express card as a registered user, or in most of the countries you can use local bank transfer too.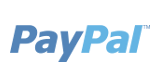 You can pay with PayPal account from the following countries: Aland Islands, Albania, Algeria, Andorra, Angola, Anguilla, Antigua and Barbuda, Argentina, Armenia, Aruba, Australia, Austria, Azerbaijan, Bahamas, Bahrain, Barbados, Belgium, Belize, Benin, Bermuda, Bhutan, Bolivia, Bosnia and Herzegovina, Botswana, Brazil, Brunei, Bulgaria, Burkina Faso, Burundi, Cambodia, Canada, Cape Verde, Cayman Islands, Chad, Chile, China, Colombia, Comoros, Congo, Congo (Democratic Republic), Cook Islands, Costa Rica, Croatia, Cyprus, Czech Republic, Denmark, Djibouti, Dominica, Dominican Republic, Ecuador, El Salvador, Eritrea, Estonia, Ethiopia, Falkland Islands (Malvinas), Faroe Islands, Fiji, Finland, France, French Guiana, French Polynesia, Gabon, Gambia, Germany, Gibraltar, Greece, Greenland, Grenada, Guadeloupe, Guatemala, Guinea, Guinea-Bissau, Guyana, Honduras, Hong Kong, Hungary, Iceland, India, Indonesia, Ireland, Israel, Italy, Jamaica, Japan, Jordan, Kazakstan, Kenya, Kiribati, Korea (South), Kuwait, Kyrgyzstan, Laos, Latvia, Lesotho, Liechtenstein, Lithuania, Luxembourg, Madagascar, Malawi, Malaysia, Maldives, Mali, Malta, Marshall Islands, Martinique, Mauritania, Mauritius, Mayotte, Mexico, Micronesia, Mongolia, Montserrat, Morocco, Mozambique, Namibia, Nauru, Nepal, Netherlands, Netherlands Antilles, New Caledonia, New Zealand, Nicaragua, Niger, Niue, Norfolk Island, Norway, Oman, Palau, Panama, Papua New Guinea, Peru, Philippines, Poland, Portugal, Qatar, Reunion, Romania, Russia, Rwanda, Saint Kitts and Nevis, Saint Lucia, Saint Pierre and Miquelon, Saint Vincent and the Grenadines, Samoa, San Marino, Sao Tome and Principe, Saudi Arabia, Senegal, Seychelles, Sierra Leone, Singapore, Slovakia, Slovenia, Solomon Islands, Somalia, South Africa, Spain, Sri Lanka, Suriname, Swaziland, Sweden, Switzerland, Taiwan, Tajikistan, Tanzania, Thailand, Togo, Tonga, Trinidad and Tobago, Tunisia, Turkey, Turkmenistan, Turks and Caicos Islands, Tuvalu, Uganda, Ukraine, United Arab Emirates, United Kingdom, United States, Uruguay, Vanuatu, Vatican City, Venezuela, Vietnam, Virgin Islands (British), Wallis and Futuna, Yemen, Zambia.
About PayPal you can find more information at www.paypal.com.